Scroll down to see current breedings/puppies
We have German Shepherd pups available to approved homes. Please review the begining process for obtaining a puppy from EuroHund German Shepherds on our Client Questionnaire page. You can see the parents of our puppies on "Our Dogs" page and/or this page. EuroHund has a limited number of breedings that take place when "the stars align just right". In addition to our limited breedings, we can import a puppy or trained adult dog for you without issue. These are very highest quality dogs from the same breeders EuroHund works with to place working K9s and to replace our retired adults. Remember, all EuroHund dogs live with the family, in a home, not relegated to a kennel. EuroHund can act as your authorized agent, handling all import paperwork, legalities and transportation to you from the airport. We can also accompany you to the airport so you can meet your new family member as soon as possible. The very best German Shepherds reside in Czech Republic, Slovakia, Germany, Austria and Holland. Most top bloodlines are now mixed with German Shepherds originating from the above countries. Being so passionate about good dogs and good people have lead us to develop close ties with top breeders and trainers throughout the world. This common interest has lead to some very special friendships over the years. What this means for you is that you will receive the very best quality puppy or trained adult to match your hopes. You will receive a puppy that matches the breed legend which can no longer be said about the vast majority of German Shepherds today.
Current
Ivan z Ditcina dvora - has been bred to - Fatima Nemesis Vlci udoli (Fati)
Date of Birth: April 28th, 2023
German Shepherd Puppies from incredibly versatile German, Czech And Slovakian lineage. All direct imports from the Czech Republic at reasonable prices. Delivery to most U.S. and international locations available. Pups available from this litter are solid black.
Sire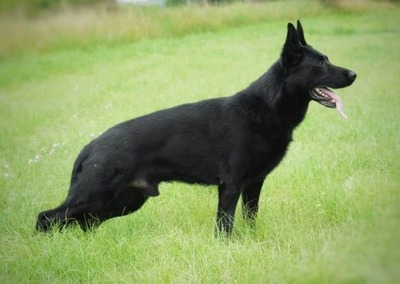 View Profile
IGP 3, ZVV 1
HD-normal (free), ED-normal(free), LUW-0(free)
Dam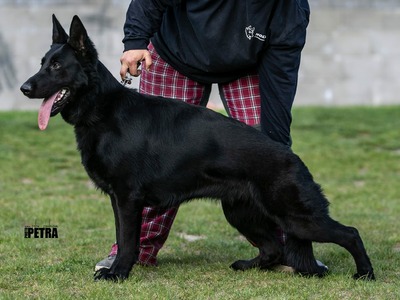 View Profile
1.Kkl., 5JY1/P, SG6
BH/VT, IBGH 1, ZVV 1
HD-normal (free), ED-normal (free), DM-N/N (free), Spondy-0 (free)
Asa of 05/24/2023 there are 3 males and 1 female available, all solid black. Puppies can fly the week of July 10.
Past
Hugo x Eleonore(Miska)
Date of Birth: May 28th, 2022
German Shepherd Puppies from German, Czech And Slovakian lineage. U.S. born and direct imports available. Delivery to NH, MA, VT, RI, CT, NY available.